Refractive surgery aims to reduce a person's reliance on spectacles and contact lenses. Not only does it brings convenience, there is less hassle and concern about contact lens related infections. The 3 main types of refractive surgery are:
Laser Vision Correction
Implantable Collamer Lens
Refractive Lens Exchange
There are 3 types of Laser Vision Correction.
ReLEx® SMILE
ReLEx® SMILE is done through a small keyhole incision on the cornea. It combines both the advantages of PRK and LASIK such as fast recovery and lesser dry eye. Downtime from work and commitment to medication post-surgery is comparable to LASIK. SMILE is ideal if you want a fast and comfortable recovery with no creation of flap.
LASIK

In LASIK, a large flap is created for the laser treatment. Due to the flap creation, there is a higher incidence rate of dry eye and potential cornea weakening. Recovery time for LASIK is very short as compared to surface ablation – about 3 days. There is also a shorter commitment to medication. This method is not advisable for patients who do contact sports, as they run the risk of flap dislodgement should there be any direct trauma or impact to the eye.
Advanced Surface Ablation (PRK/LASEK/EPI-LASIK)

Surface ablation is ideal for people who do contact sports or have thin corneas. However, due to the removal of epithelium during surgery, there is more discomfort as compared to the other types of refractive surgery. There is also a longer commitment to medication and downtime from work.
Corneal Collagen Cross-Linking (CXL)

During refractive surgery, the cornea shape and integrity are changed. This process can weaken the cornea and may cause a condition known as corneal ectasia, which is rare. With collagen cross linking, vitamin B is applied on the eye and thereafter and UV is being instilled. The corneal integrity is strengthened as more links are formed. In patients with slightly thinner corneas who undergo refractive surgery, CXL aid in improving the refractive stability of the eye.
Implantable Collamer Lens (ICL)
Implantable Collamer lenses are lenses that are implanted into the eye, behind the iris and in front of our natural lens, to treat high degrees of myopia, hyperopia and astigmatism. The results of the implants are reversible, and should a patient develop cataracts as they age, the implants can be removed. One major downside of ICL surgery is that it is 2 times more costly as compared to LASIK and SMILE.
Refractive Lens Exchange (RLE)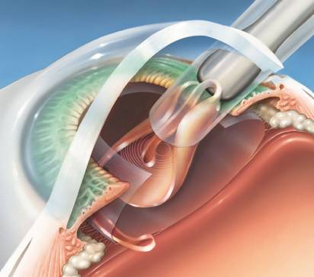 Refractive lens exchange replaces the eye's natural lens with an intraocular lens (IOL). The lens implant is calculated to correct the eyes' refractive errors. This surgery is suitable for patients who have early cataracts or are middle-aged. This way, they do not have to worry about having to go through cataract surgery in future as the natural lens are already replaced in this procedure.
 For more information, contact us at atlaseye@atlaseye.sg or call us at +65 6737 9119