Scheduling an appointment with your eye doctor during the COVID-19 pandemic
The COVID-19 pandemic has no doubt changed our way of life. After the circuit breaker was lifted in Singapore on 19 June 2020, many safety measures are still in play to minimise the spread of the disease. The measures include mandatory use of mask when out of the house, no large gatherings and to seek medical help timely when feeling unwell.
There are data to show that 1% to 3% of people with COVID-19 will get conjunctivitis, which is infection of the transparent membrane that lines the eyelid and eyeball. Symptoms will include itch, redness and a gritty sensation in the eye. This happens when the virus infects the conjunctiva (white part of the eye or the inside of the eyelids).
Most healthcare institutions have resumed operations. To ensure everyone's safety, we highly encourage and recommend all patients to schedule an appointment ahead of time when seeing an eye doctor. Upon confirmation of an appointment, we will send a COVID-19 advisory, which contains the following information:
To reschedule the eye check if 14 days prior to appointment –
Or at the time of appointment, you have symptoms of a fever, flu, cough, sore throat, shortness of breath or loss of smell.
You had travelled out of Singapore.
You had close contact with someone on Stay Home Notice, Leave of Absence or a case of COVID-19.
You worked or lived in environments with higher risk of exposure to Covid-19.
In addition, to maintain social distancing, you are advised to attend the appointment on your own as this helps to minimise the number of people at our eye centre. One companion will be allowed if you have specials needs:
Below 21 years old

Elderly

Mobility issues
Upon arrival, you will have to do a 'SafeEntry' check-in for contact tracing and fill up a health declaration form. 
Rest assured that we place your safety at the centre of all we do. If you will like to come in for an eye check with our eye doctor, you may contact us at +65 6737 9119 or atlaseye@atlaseye.sg.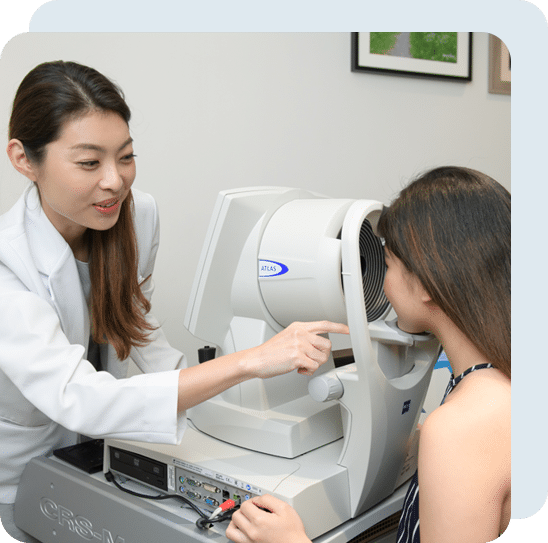 Sources:
https://www.aao.org/eye-health/coronavirus