During Surgery
ON THE DAY OF SURGERY
Please have a shower before you come in for the surgery. After your shower, please do not apply any spray, hair gel, cream, aftershave, moisturiser, makeup, perfume or deodorant as these chemicals may interfere with the performance of the laser.
Please also have a light meal before the surgery. There is no need to fast.
You may arrange for someone to bring you home after the surgery (expect to spend about 2 hours in the clinic). Otherwise, you may take a cab and return home on your own. Please do not drive.
Bring a pair of sunglasses to put them on after the surgery.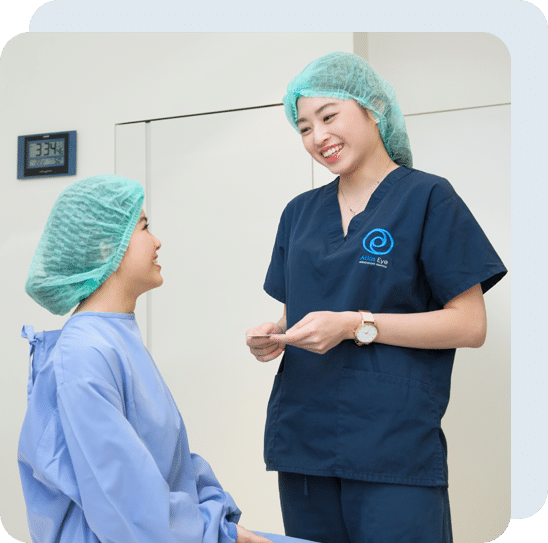 THE PROCEDURE
You will be given anaesthetic drops to numb your eyes to minimise any discomfort.
You may however experience some pressure or coldness on the eyes, as well as some discomfort when the doctor uses a speculum to hold your eyelids open.
A mild sedative will be given to help you relax.
POSSIBLE RISKS & SIDE EFFECTS
Laser Vision Correction is considered a low-risk surgery. The risk of infection is 1 in 10,000.
If you experience any redness together with swelling, sharp pain and/or tearing after the surgery, please contact us as soon as possible.
Side effects include dry eye and night vision problems. This is temporary and will last about 3 months for most patients. They will usually taper off as the days go by.
Although rare, there is a possibility of the side effects becoming permanent.